What better gift to give yourself or a loved one (but more likely yourself) this Christmas then the gift of beauty and flawless looking skin – luxury in the form of a face mask. But not just any old face mask, oh no, the Jivesse Gold Collagen Face Mask is infused with pure 24k Gold Leaf. Do you know what that means? Your skin will be enveloped in Gold just as the ancient Egyptians & Romans before us who knew the great benefits of gold on skin, who attributed benefits such as healing & treating skin and a radiant complexion to the power of Gold itself.
Each mask offers pure, unadulterated pleasure for the skin as it envelops the face, saturating it in all its golden glory, revealing a gorgeous, radiant complexion. 24k Gold Leaf locks moisture into the skin and keeps it firm by maintaining collagen levels in the skin & inhibiting the breakdown of elastin. The gold dissolves on your skin's surface to instantly reflect light, and tiny particles seep in to skin to protect against fine lines and discoloration.
And it doesn't stop there. The mask is also infused with Hyaluronic Acid & Collagen to help keep skin supple, hydrated and resistant to fine lines & wrinkles. Aloe Vera comes to the skin hydration rescue once again in these masks and lends its properties of skin hydration and abundance of vitamins A & E to help support skin's health. Take these ingredients and combine them with gold and the result is visibly smoother, firmer skin with an undisputedly radiant complexion that rivals the beauty of gold itself.
Here are a few things to note about Jivesse Gold Collagen Face Masks: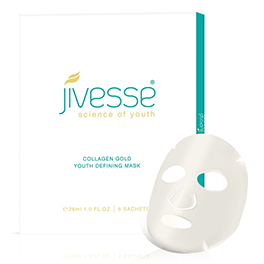 24 karat Gold-Leaf immediately envelops skin in flattering golden light
Helps stimulate skin's regenerative capacity to improve texture and further enhance radiance
Evens skin tone and softens the look of fine lines
Helps diminish appearance of wrinkles and improves elasticity
Aloe Vera offers anti-oxidant and soothing benefits while hydrating and helping skin retain moisture
Each mask is far more than just a face mask. The superior ingredients that penetrate your skin can only be explained as pure luxury for your face. Relax. Indulge. Take time out for you. Now is the time to glow – not only during the festive season but all year round. With every use the mask rejuvenates the skin revealing a complexion that is unparalleled. Delight your skin and your senses with Jivesse Gold Collagen Face Masks and experience facial pleasure like never before.