Christmas is a time for giving and what better gift than giving the one you love and care for a gift that they will appreciate. Good-looking skin is not a gift to be overlooked. In fact, skin care products account for almost 70% of the gifts we buy for a female family member each year at Christmas, whether it's for mom, nan, sister, aunty, cousin or friend – you can't go wrong.
And with that said, Jivesse offers the very best in indulgent skin care ideas for every woman you know. If the recipient is new to Jivesse, the luxurious packaging alone will excite their eyes, while the products themselves will excite their minds – they won't believe the results! If the recipient already uses Jivesse, they will appreciate the thought you had to replenish their at home levels. Here is the list to choose from:
Jivesse Marine Collagen Cream for Good-Looking Skin
This is a multi-dimensional anti-ageing cream containing potent active ingredients to rejuvenate and accelerate the natural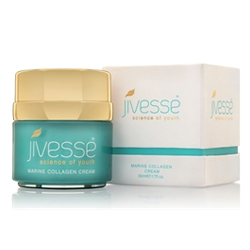 production of collagen in your skin and defend against the key signs of ageing.
Whilst the key active ingredients are absorbed deep into the skin, a layer of moisture on the surface is provided, which ensures skin remains supple 12 hours after application.
The Kakadu plum extract found in the cream; contains the highest level of Vitamin C found in any plant in the world. Vitamin C aids cell growth and contributes to the strength and firmness of the skin.
The cream is enriched with the highly absorbable bioactive peptide Peptan to help reduce the appearance of wrinkles, improve elasticity and counteract the loss of firmness over time.
Its unique, airless Jar protects the cream from exposure to light and air preventing contamination, optimising the efficacy of the product and guaranteeing the longevity of the active ingredients. One pump provides up to 1ml of cream.
Jivesse Capsules for Good-Looking Skin
These capsules are packed with a vast array of active ingredients which aim to provide essential nutrients looking to reduce the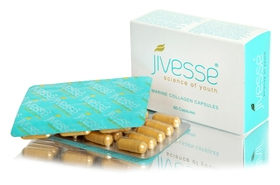 development of deep wrinkle formation in the skin and give a luminous glow to the dermis.
Collagen peptides, in the form of Peptan act as cell communicators to increase collagen production and plump up the skin. The 200% of Vitamin B3 (Niotinamide) found in a full dose of the Jivesse capsules results in a natural exfoliation process providing for a more luminous youthful looking glow.
The capsules are full of anti-oxidants and vitamins which will help work to help you feel invigorated and look rejuvenated.
Jivesse Gold Collagen Masks for Good-Looking Skin
If for whatever reason they do not want to change their skin care routine, there is always our indulgent face masks. Our new and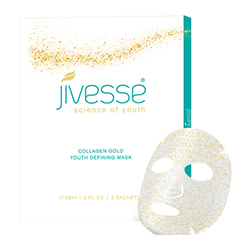 improved Jivesse Gold Collagen Face Masks are now infused with even more 24 karat gold leaf to visibly lift, tighten and firm the face, uplifting and rejuvenating skin with every use. Skin appears smoother, more radiant and youthful allowing your flawless beauty to shine through.
With new trans-fibre technology, each mask now fits perfectly to every contour of your face – a better fit means even better results. Skin is enveloped by every inch of the mask, and healthier skin is revealed after every use. The new formula now gives each mask a gel-type feel, enhancing skin hydration and moisturisation. As a result skin feels hydrated and supple to the touch.
Each 24 karat gold leaf infused mask visibly lifts, tightens and firms the face, uplifting and rejuvenating skin with every use. Skin appears smoother and more youthful allowing flawless beauty to shine through. Thanks to the new and improved formulation, each mask now contains even more 24k gold leaf to envelope the face revealing a more youthful, radiant complexion.
The new, improved formulation of Jivesse Gold Collagen Masks leave the skin feeling luxuriously smooth, supple, fresh and thoroughly hydrated, adding a natural glow and a touch of luxury to a beauty regime so that anyone can unmask their inner beauty.
…It's Jivesse – how could she resist?
Merry Christmas from us all at Jivesse!