Sun exposure can cause chaos to skin which is why summer skin requires some TLC.  Drinking water and staying hydrated is key especially during warmer weather and remember over-exposure to sun is the number one cause of premature skin ageing, so it's important to take extra care of your skin now.
Natural Ingredients for Healthy Summer Skin
Hydration can help keep skin healthy throughout summer. And replacing facial skincare products containing harmful chemicals with natural ingredients is also a great way to support and maintain healthy summer skin.
Try chilled cucumber slices on eyes after a day in the sun to help minimise puffiness and soothe the eye area.
As avocado contains vitamins A,D and E, this makes it great to help treat sunburn
Grapefruit to help stop dehydration
Dehydration can also cause a layer of skin to build up which prevents any moisturiser you apply from getting through, which is why exfoliating at least once a week can also help.
Jivesse Collagen Cream for Healthy Summer Skin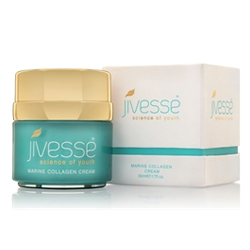 This cream contains many natural ingredients including Kakadu Plum, which contains the highest level of Vitamin C found in any plant in the world; Retinyl Palmitate, a form of vitamin A, that penetrates the outer layers of skin and looks to repair layers of skin where collagen and elastin reside; Raspberry Seed Oil acts as a natural protector from harmful UVA sunlight and keeps skin looking youthful all year round and Avocado/Pomegranate Seed Oil are key anti-oxidants that aid skin rejuvenation whilst promoting cell renewal and regeneration.
Key natural ingredients within Jivesse Collagen Cream make this an all-year round cream, effective in all weather. Each ingredient helps repair and protect skin especially during the summer months. Hydration is always a factor that needs to be addressed for skin health, and then there is the matter of what you apply to your skin.
After cleansing, make sure to apply Jivesse Collagen Cream for effective skin hydration and to help protect skin all day long.  Apply again at night for effective skin cell renewal and rejuvenation.
Don't forget, daily sun protection should be applied to skin, once the collagen cream has absorbed, for essential protection. Do not skip this. And once you get in from a day out, do try a natural remedy such as an avocado face mask to help soothe skin. Then at bedtime, apply the collagen cream allowing it to work its magic on skin cell renewal, ready for the following morning.