Jivesse already takes pride of place on the shelves of Harrods, Selfridges and John Bell & Croydon, and now, we are excited to announce that Jivesse is now stocked in Revital, the leading multi-channel retailer of supplements, beauty and wellness products. Located at the following stores: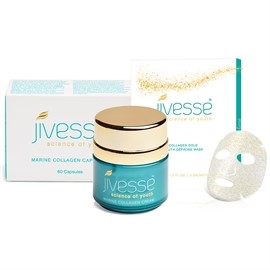 Kings Road
Victoria
Wigmore
Hampstead
Brunswick
Oxford
Cambridge
…Plus the Revital online store too!
This means there are even more places to purchase your favourite Jivesse products at your convenience.
Tell Us More about Revital
Revital is a renowned multi-channel retailer of supplements, beauty and wellness products. With over 25 years of experience, Revital sets out to help you be the best you can be and aims to inspire customers to discover new and unique solutions to help them achieve success on their journey to better health. Jivesse is proud to be stocked in Revital and to be a part of their exciting health & wellness journey.
The wonderful thing about Revital is that their highly trained staff are highly knowledgeable in the product range, so for further advice or recommendations, visit a store near you and speak to product specialists who can guide you in the right direction to youthful, healthy skin.
What Attracted Revital to Jivesse?
Its reputation, its innovation and its complex formulations.
Clinically proven to help reduce visible signs of skin ageing, rejuvenate skin and restore youthfulness, the Jivesse range is considered superior in the skin care industry.
The Jivesse Face Cream is the first triple complex marine collagen cream fortified with an antioxidant and humectant combination to rejuvenate and accelerate the natural production of collagen in your skin and defend against the key signs of ageing. And it's all captured in an innovative airless container to ensure the purity and effectiveness of the cream.
The Jivesse Capsules are a 100% natural marine collagen supplement containing a patented formulation of active ingredients that boosts your body's natural production of collagen and hyaluronic acid that improves the way your skin looks and feels in as little as 30 days!
The Jivesse Gold Collagen Face Mask sounds as luxurious and it feels. Each 24 karat gold leaf infused mask visibly lifts, tightens and firms the face, uplifting and rejuvenating skin with every use. Skin appears smoother and more radiant.
You won't find Jivesse in many retailers – we only choose the very best to showcase the range. Jivesse deserves to be featured in only the very best stores. Revital is now one of them.