Our skin can experience an allergic reaction to the simplest of things if we suffer with sensitive skin. For example dirt, dust, pollen and everyday pollution can cause itchy/irritated skin, watery eyes, runny/blocked nose, a sore throat and so on. Itchy, irritated skin can needs some TLC and here are a few ways Jivesse can help support skin health during the allergy season.
Jivesse Marine Collagen Cream for Skin Health
Rubbing the face during an allergic reaction can cause dry skin. The luxurious cream helps maintain skin hydration throughout the day.
Our collagen cream is formulated primarily to keep skin taut, supple, youthful and healthy. It also contains vitamin C which not only supports collagen synthesis but also acts as an antioxidant to prevent skin cell damage. Applying Jivesse Cream to the face daily helps keep skin healthy, hydrated and helps prevent irritation.
Jivesse Gold Collagen Face Masks for Skin Health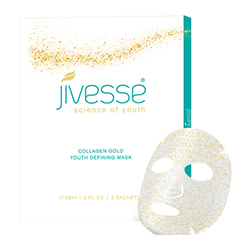 Gold has long been considered to have a beneficial effect on health and skincare. The Egyptians believed the healing powers of gold could cure all manner of physical, mental and spiritual ailments. Romans used gold preparations for the treatment of skin lesions and sores. It is believed that Cleopatra wore pure gold for a radiant complexion. And, in ancient Chinese medicine, gold was the secret to youthful skin. The benefits of gold upon skin health are therefore well-founded throughout history and remain true today.
So, after a day of experiencing irritated skin, these face masks offer significant facial relief. Each 24k gold leaf infused mask penetrates skin to help regenerate skin cells and speed up the renewal process, revealing supple skin and a luminous radiant complexion. In addition, the mask helps minimise fine lines and wrinkles, while improving skin's overall texture.
These masks offer a great way to renew, rehydrate and improve appearance of facial skin.
Jivesse Marine Collagen Capsules for Skin Health
The best thing about these collagen-filled capsules is that if you take them daily, skin should remain hydrated and healthy all year round. The constant flow of antioxidants, collagen and hyaluronic acid help support skin health.
The 200% of Vitamin B3 (Niotinamide) found in a full dose of the Jivesse capsules results in a natural exfoliation process providing a more luminous, youthful looking glow. And as they are full of anti-oxidants and vitamins these capsules help skin feel invigorated and look rejuvenated.
Jivesse is simply the best way to keep skin healthy during allergy season and all-year round.